Zinoleesky, an artist signed to Marlain Records, has announced that he is no longer dating Shubomi, the sister of his employer Naira Marley, Praizemedia report.
He revealed this during a conversation with Seye Banks on Lagos' Soundcity Radio 98.5FM. The musician declared that he is now unmarried.
WATCH THE VIDEO BELOW ???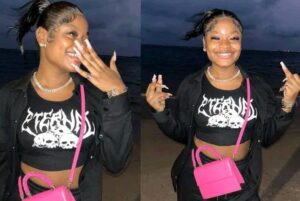 Men are often concerned about who their sisters are seeing, so the host questions him about how he was able to inform Naira what was happening.
Zinoleesky asserted that after breaking up with his sister, he didn't need to explain himself to his supervisor as much.
The singer of "Loving You" admitted that Shubomi wasn't his cup of tea and that knowing too many people turns him off.
"First of all, I don't like girls that know too many people. Once you know this person, that person, I won't feel safe around you," he said.