Nollywood actress, Wumi Toriola has addressed her ex-husband allegations of being violent, praizemedia report.
Pm reported that Wumi Toriola's ex-husband, had opened up on their crashed marriage to his new love interest.

While speaking on their failed marriage, he said that their marriage was filled with violence, deceit and betrayal from Wumi Toriola's part.Her estranged husband made this known to his new Igbo girlfriend, who leaked their conversation to Instagram blogger, Gistlover.

The blogger claimed that a lady had reached out to her when she broke the news of the couple's crashed marriage. The lady alleged that she was dating Wumi's husband and he had denied being married.

After confirming that her new man was the Actress's ex, she confronted him and he opened to her on his 'toxic marriage'.Although, not going deeper, the father of one revealed that his marriage to the actress was an ugly one, filled with physical assault and deceit. Describing his marriage as a total regret, he accused the actress of assaulting his mother.
WATCH THE VIDEO BELOW ??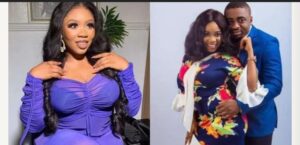 Addressing his allegations, Wumi Toriola in a lengthy post on her Instagram page debunked the report.

She stated that she has never been physical with her mother-in-law nor her mother and she has witnesses to back her up.
She revealed that her marriage had crashed for over a year now, and she didn't need to air it out on social media because there was no need for the drama.

"There has been a lot of media attention on me lately regarding my marriage.