Nollywood actor Yomi Fabiyi Ex, Grace has fire back at Yomi after he Unveils new lover and throw some Shade at her in his post, praizemedia report.
Calling out her baby Daddy, she wrote ; Please if you are friend or family or in any way related to this man, call him to order, he needs to stop at this point, me not replying does not mean I am a fool,don't be unfortunate.
You have moved on, focus on your new relationship. You trying so hard to tarnish my image is so foolish of you. I have healed up from the mess I went through from you last year. You need to stop now!
You saying I dated three men while pregnant is the main reason I am replying you. Don't be unfortunate. Take my name out of your mouth Yomi. You never caught a man on me neither did I give you a child that is not yours. I don't think I deserve all this stupid draggings you are trying to start. Relationship is not a do or die. You need to ✋ stop. It obvious you are frustrated, no be me you go carry your frustrated self on. Someone close to him should better talk to him, you are not feeding me o, you can't just decide to wake up and always trying to drag my name into mess.

I never even regretted leaving you. It's actually a blessing to me ?.
WATCH THE VIDEO BELOW ??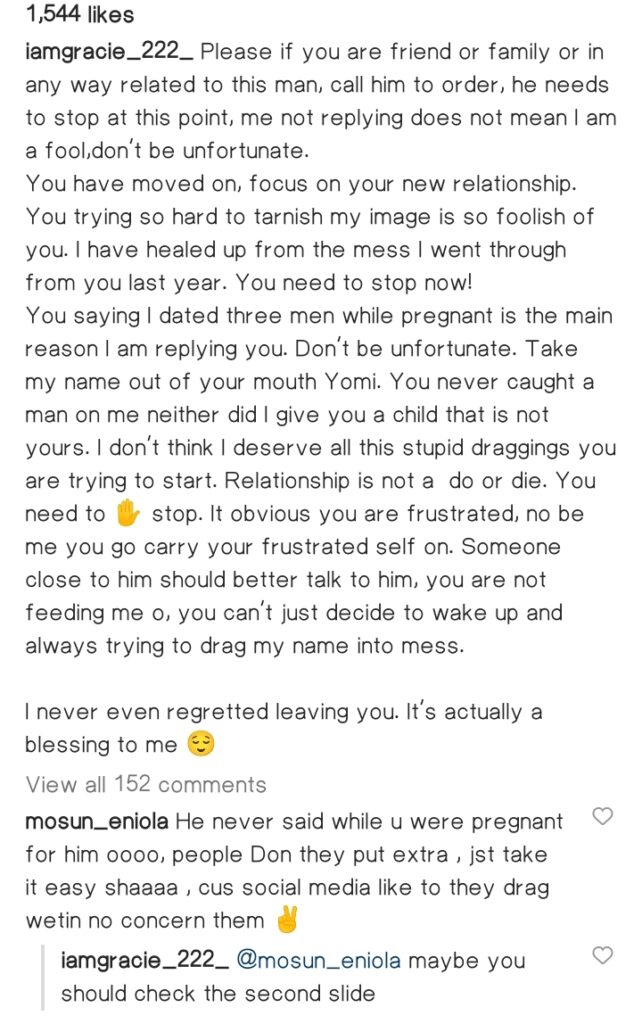 Recall the ace actor show his new lover in his new post recently.