Nollywood actress, Iyabo and some celebrities are reacting to a trending video of the extra miles a party host went through to ensure that money is being sprayed at the party, praizemedia report.
With the lack of naira scarcity in the country, it isn't surprising to see Nigerians coming up with strategy on how to survive.

To also avoid arrest, the host had printed her own naira notes for guests to spray at the party.

Guests at the event, who wanted to spray money, transferred the money they plan to spray to the celebrant and in turn the celebrant gives them the equivalent in form of the party money.

Isaac Fayose, had shared the video online, questioning who was behind the predicament of Nigeria.

"Who do us for Nigeria? Due to Naira Scarcity, they printed their own party money, you do an electronic transfer, you get the naira equivalent in the denomination you want for spraying at the party. Is spraying a must? Wahala Wahala Wahala", he wrote.
WATCH THE VIDEO BELOW ???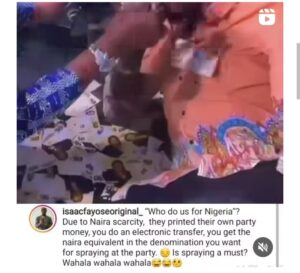 Taking to a blog's comment, Iyabo Ojo, Akin Alabi, Uche Maduagwu and skitmaker, Isbae U reacted to the viral video.