Veteran Nollywood star, Chinedu Ikedieze, popularly known as Aki has reacted after the famous American rapper, Snoop Dogg used his meme to convey a message to the public, praizemedia report.
Taking to Instagram, Snoop Dogg simply shared the meme which had a photo of 'Aki' shedding tears alongside a caption that reads:"When you order a book called "How to scam people" and it still hasn't arrived after 3 months."

Aki who stumbled on the post shared it on his Instagram story while expressing amusement over the caption on the meme.He wrote: "Aaaaah! What a caption @snoopdogg ????".
WATCH THE VIDEO BELOW ?⬇️⬇️⬇️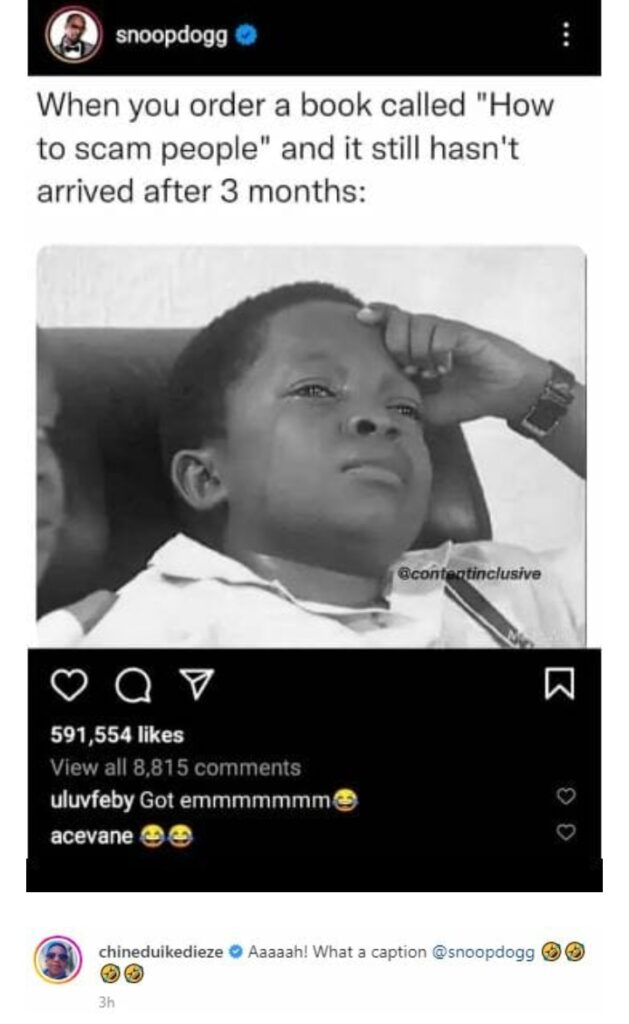 Chinedu Ikedieze (Aki) and Osita Iheme (Pawpaw) acted in several movies together. They were mostly known for their mischief in films. In the course of time, the duo's photos from their past films became generally accepted for conveying hilarious messages both in Nigeria and abroad.

Today, Aki and Pawpaw are considered kings of memes.