The Kunle Afolayan's Anikulapo movie recorded some level of commercial success after its release on Netflix in October 2022, praizemedia report.
The movie that created a social media buzz has so many talking points and they include the debut of a 17-year-old girl named Eyiyemi Afolayan.

Eyiyemi is the daughter of Nollywood thespian and filmmaker, Kunle Afolayan and she played the role of Princess Omowunmi Anikulapo – the daughter of the first Queen in the palace where Saro would meet Queen Arolake, one of the younger wives of the Alaafin Of Oyo.
WATCH THE VIDEO BELOW ????⬇️ ⬇️ ⬇️⬇️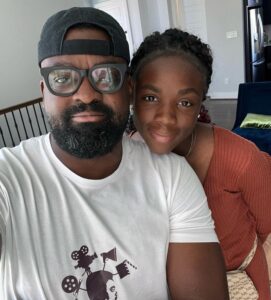 Saro who was a fabric weaver plied his trade in the palace via a referral from his older lover Awarun, played by Sola Sobowale. During one of his visits to the Afin, he caught the fancies of both Queens – Omowunmi, and Arolake. Omowunmi's jealousy would make her spill the secret relationship between Arolake and Saro and that led to the first death of the Latter in the movie.

Eyiyemi managed to grab the headlines in a movie that had so many talking points and it is not by the virtue of her father being the producer, It's her identifiable talent that raised questions about who she is.

While curiosity got poked by Nigerians, Kunle Afolayan introduced his daughter properly as an actress and talks about her journey ahead in the industry.

Read the proud father's comments about his 17-year-old star below:

"As the director of Anikulapo, how did you feel having your daughter on set?"

It felt good because at least I didn't have to pay her. Even though I was paying her directly or indirectly. But on a candid note, I was happy because when I got the script and I was trying to cast for the role, it is difficult in this part of the world to get child actors or teenage actors because 1) the school period, but I was glad that she was just rounding up and prepping for WAEC. And then, if you want to portray a princess, I think it is no given that the person has to be beautiful, and she is beautiful. And also, I give it to myself that I trained them well cuz it's also difficult to get someone of this age to speak Yoruba. Yes, her Yoruba was not like "all that" but she listened, she was trained, and she took the correction. It wasn't perfect but then I will say she put in her best and I think her best was worth everything.
It appears as though we have another Afolayan that will pass on the acting baton in the family for years to come. Just as her father, Kunle Afolayan was given his debut in Tunde Kelani's 1999 Nigerian political drama film, Saworoide, Eyiyemi got her debut in Anikulapo 23 years later.
Before this breakout star becomes a mainstay in Nollywood, we have gathered some details you should get to know about the fast rising actress as an early bird:

Eyiyemi is the third child and second daughter of Kunle Afolayan's 4 children
Eyiyemi was born on September 11, 2005
She made her acting debut in the Nollywood movie, Anikulapo after completing her Senior Secondary School final examinations.

She's a student of Pan Atlantic University in Lagos – The same alma mater as Yul Edochie's daughter, Danielle Edochie.
Eyiyemi is a fashion model who has hit the run way on major fashion events like the African Fashion week
The teenager is quite smitten by her father and she calls him Baba mi, an endearing Yoruba way of acknowledging the legendary filmmaker as her father.
She's a descendant of the popular Afolayan family that hails from Agbamu in Igbomina Irepodun local government of Kwara state
Eyitayo the youngest Afolayan to make her acting debut followed by Gabriel Afolayan.