Nigerian street singer, Habeeb Okikiola better known as Portable has caused a stir online as he unveils his newest project, praizemedia report.
The singer, who is increasing his business portfolio, has launched a new bar to the excitement of his fans.

The controversial singer, who was physically assaulted days back, revealed the good news on his Instagram page moments ago as he shared videos of the bar.
WATCH THE VIDEO BELOW ????⬇️⬇️⬇️????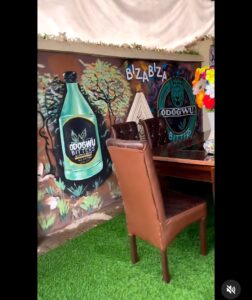 Sharing an important advice with his millions of followers, he told them to never stop believing in miracle and hoping.
"Never stop believing hope miracle happen everyday Oluwa Let My Tomorrow Better Pass Today. Who Get God No Dey Carry Last there's no competition because nobody can be me Zazuu ODOGWU club and restaurant Loading Opening soon", he captioned the video.
However, online critics took to his comment section to fault him for his poor taste of design.

Many mocked him for designing his bar like a dining room and using flowers case as decor for a bar.

"You wan host family conference?", One Only1biggest

One Horlanum wrote, "So na for trenches package his bar this much

"Lai Shey conference meeting. Portable Mapami Now", One Johnsynarno wrote

One Abdul Hadi wrote, "Everybody is on a high table at Portable bar

"Na bar be this or eatery", One Sam Lahache wrote

One hbeat pro wrote, "izzz going but why dining table? And those flowers needs some changing… God progress tho…. Na small small".