In his recent Instagram post, Femi Adebayo Salami, a renowned Yoruba film actor, shared fresh photos of himself from Saudi Arabia where he embarked on a journey to perform his Hajj, Praizemedia report.
Fond of traveling to discover new places, Femi Adebayo Salami has once again fulfilled his passion by visiting Mecca for the Hajj pilgrimage.
WATCH THE VIDEO BELOW ????⬇️⬇️⬇️????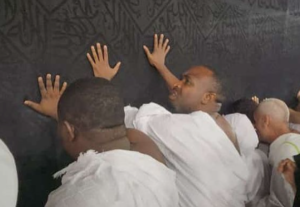 The post garnered a lot of attention from his fans who expressed their thoughts on the latest update in various ways.
In a recent post, Femi Adebayo Salami shared pictures of himself dressed in a white garmet outfit while performing pilgrimage. The actor looked thrilled and had a big smile on his face as he was captured in the plane with another man. Femi expressed his excitement and disclosed that he was making supplications alongside people from various parts of the world.
In the statement he made on his Instagram page, he said, "Supplications have been rendered." "May we receive a grant for them?" This caption and his pictures attracted the attention of his fans as they reacted to them.