After visiting the home of popular Nigerian comedian Mark Angel, a Nigerian man was left speechless, praizemedia report.
In a video shared on the TikTok app, the astonished man expressed his awe at the luxury structures he witnessed while emphasizing the profitability of comedy skits.
WATCH THE VIDEO BELOW ????⬇️⬇️⬇️????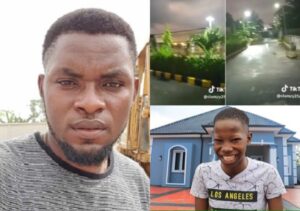 He wrote ; "Just look at Mark Angel's house na. Jesus. This guy get Estate from comedy skit. The house is something else", he said.
Mark is one of Africa's top comedians right now, but he's the holder of several remarkable achievements.

His Facebook page, for example, has over 17 million followers, and his YouTube channel was the first in Africa to exceed one million subscribers.