Mixed reactions have started trailing a lady involved in the interview recently shared by popular Instagram influencer Egungun, praizemedia report.
As usual, IG influencer Egungun went on the street to create content, and this time he met s slaymama identified as Diamond who hailed from Imo State Nigeria.
WATCH THE VIDEO BELOW ????⬇️⬇️⬇️????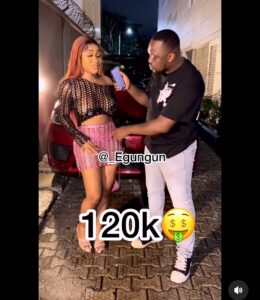 The light-skinned lady triggered several reactions online after she reveals during the interview that her boobs and backside are fake and by extension they work N13M.
Disclosing the cost of her outfits after being asked by the interviewer, the lady said her hair is N350K. Top is N60K, shirt from Dubai is N120K, neck chain is a gift from her ex-boyfriend.
She said her heels cost N1.3M, handbag 45K, her surgically enhanced boobs cost N6M and her BBL costs N7M.
In the clip, she was seen bouncing and touching her boobs showing how perfectly the work is being done on her by the doctor.

She also managed to suffocate netizens by flaunting her bum.