Nollywood actress, Regina Chukwu has tendered an heartfelt apology to her senior colleagues on behalf of make over artiste and babymama of Mustapha Sholagbade, Adewumi Fatai, praizemedia report.
Pm reports that Adewumi Fatai had taken to her Instagram page to call out the elders in the industry over an encounter she had with the police.

Adewumi Fatai claimed that she was assaulted by the police while returning from an event over the weekend. According to her, she was slapped several times by a policeman, who lashed out at her for campaigning for a certain presidential candidate.

The assault infuriated Adewumi who took to her IG to lash out at many actors in the industry.

In a surprising U-turn, Adewumi had taken to her Instagram live to tender apology to the public.

"I was accused of supporting Campaigning for politics and all I sad was out of annoyance and frustration. I am sorry Emabinu sir/ma", she said.

In a post on her Instagram story, Adewumi stated that she sincerely apologizes to anyone who has been offended by her utterance.

She revealed that she wasn't in her right frame of mind when she did it. The makeover artiste stated that she knows it's a trap as she has been dealing with a lot which has left her tired.
WATCH THE VIDEO BELOW ??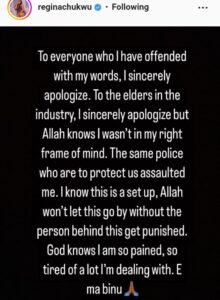 She, however, believes that the culprit wouldn't go unpunished as she trust in her creator.

"To everyone who I have offended with my words, I sincerely apologize. To the elders in the industry, I sincerely apologize but Allah knows I wasn't in my right frame of mind. The same police who are to protect us assaulted me. I know this is a set up. Allah won't let this go by without the person behind this get punished. God knows I am so pained, so tired of a lot I'm dealing with. E ma bunu".
Reposting her apology, Regina Chukwu pleaded with her senior colleagues to forgive her.

Defending the make over artiste, she noted how Adewumi is a still a child, hence, her misbehavior.

"To everyone @glitterstouch_makeovers has offended with her outbursts.
Pls I beg on my knees.
E ma binu
Omo yin ni
Ejo eje ebure
Omole o le no eko je ko ma ra lowo
She will be more careful next time.
Ejo, e wo to Omo Lara.

Pls forgive and forget, she didn't mean it that way".